Spinach is one of my hubby's favorite veggie. Spinach is also one wonderful nutritious veggie which can be used with any combo. Here, I used soy beans and yellow peas along with spinach. This turned wonderful and delicious. I am also posting the nutritional content for soy, yellow peas and spinach. This curry can be had with rice/roti.
Nutritional Information:
Spinach: Soy Beans: Yellow Peas: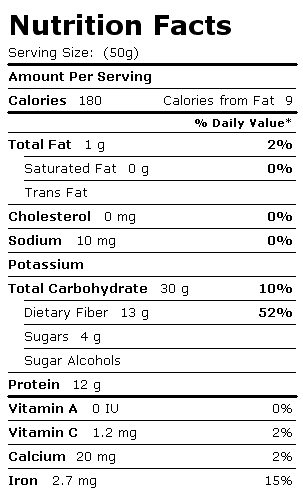 Source:
http://www.oceanmist.com/images/spinach/spinach_nutrition.jpg
http://www.fruitsandveggiesmorematters.org/wp-content/uploads/UserFiles/Image/cooking/good/nutrition/fvdb/labels/Nutrition_Facts_Soybeans.jpg
http://www.quitehealthy.com/nutrition-facts/food-labels/labelL159741.gif
Ingredients:
Soy beans (Dry) -1/2 cup
Yellow Peas (Dry)-1/2 cup
Spinach washed and chopped-3cups
onion-1/2cup chopped
Ginger-1 inch
Garlic-2 cloves
Tamarind concentrate (Juice)-4tbsp
Garam masala-1/2tbsp
Coriander powder-1tbsp
Green chili-2
Red chili powder-1/2tbsp
Salt to taste
Mustard seeds-1/2tbsp
Cumin seeds-1/2tbsp
Red chili-1
Curry leaf- 1 spring(Optional)
turmeric-1/4tbsp
oil-2tbsp
Method:
Soak Soybeans and yellow peas together for 6hrs and pressure cook them for 2 whistles. Drain water and keep aside. Do not throw the drained water.
Heat oil in a pan and add cumin seeds and mustard seeds when they splatter add red chili and saute. Add onion, turmeric,green chili, curry leaf and cook till it is tender, meanwhile grind garlic, ginger and green chili together and add this mixture to onion. Close the pan with the lid, cook till the oil leaves the curry from sides. The add spinach and cook till it is well done. Mash cooked soy beans and yellow peas coarsely and add it to the spinach, also add 1/2 cup water (that is drained from beans) and mix well.
Finally add red chili powder, tamarind extract, coriander powder and salt to taste and mix well. Check for taste and cook till the raw flavor from spinach goes away. Turn off the stove.
Enjoy this curry with roti/naan/rice. Hope you like my recipe.